MEMORIAL SERVICE FOR MARY ELLIS
A memorial service for Mary Ellis took place in Cowes, Isle of Wight, on Monday 24th September in brilliant autumn sunshine.  The church was absolutely packed with everybody from the Lord Lieutenant downwards.  No less than six standards, including the ATA standard, were paraded by local air cadets (Mary would have approved of that) and tributes were paid by local dignatories and representatives of the ATA Association and local Aircrew Associations.  We even heard from Mary herself, in a clip from a radio interview.  After the service two Spitfires from the Boultbee Academy at Goodwood flew past, followed by a solo display by the Spitfire 'Spirit of Kent' which had come over from Biggin Hill.  What a wonderful send off for a wonderful lady!  Here are a couple of photos from a display illustrating Mary's career as an ATA pilot, and then running her own airline and becoming the commandant of Sandown Airport.
We are proud to announce that Mary Ellis bequeathed to the ATA Museum at Maidenhead Heritage Centre three logbooks which cover her entire flying career.  The museum is honoured that Mary entrusted us with these; we will treasure them.  Mary's logbooks will be copied and added to our digitized collection of over 130 logbooks from pilots, flight engineers and ATC cadets.  The logbooks are the primary record of ATA, evidence that its extraordinary story really is true.  Thank you, Mary!
---
ATA and THE BATTLE OF BRITAIN
In the summer of 1940 ATA was still a young organization with around 100 pilots.  But as today September 15th is Battle of Britain Day it gives us an excuse to trawl through the handful of logbooks (among the 130+ in our collection) which were kept by ATA pilots serving at the time of the Battle of Britain.  We have managed to find these entries, but the very best account of ATA and the Battle of Britain is in the diary of Arnold Watson, whose entry is also reproduced here.
Stanley Brown (seconded from BOAC)
3 September           Hurricane                White Waltham – Kenley
10 September         Spitfire                    Brize Norton – Middle Wallop
27 September         Spitfire                    Little Rissington – Warmwell (satellite of MW)
30 September         Hurricane                Aston Down – Middle Wallop
15 October             Hurricane                Wroughton – Shoreham
Peter Mursell (later Director of Training)
23 September         Spitfire                    Little Rissington – Tangmere
29 October             Spitfire                    White Waltham – West Malling – Gravesend
Jimmy Nettleton
28 August               Spitfire                    Hamble – Westhampnett (now Goodwood)
Philip Wills (later Director of Operations)
17 August               Hurricane                St Athan – Tangmere
19 August               Spitfire                    Kirkbride – Middle Wallop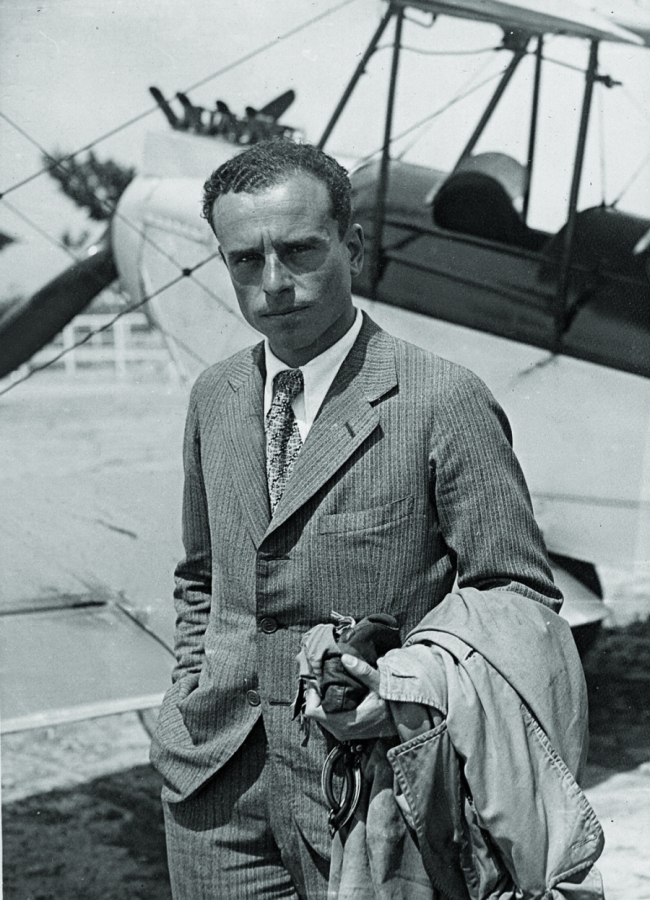 Josep Carreras (the only Spanish pilot in ATA, the first ATA pilot to fly a Liberator bomber and an instructor on Catalina flying boats. More about him in a subsequent post.)
10 September         Spitfire                    Brize Norton – Middle Wallop
J A V Watson: diary entry for 4 September 1940
The battle of Britain at its height. I landed a fully armed Hurricane at N. Weald in Essex (from Aston Down) 10 minutes after the Hun dropped 500 bombs there.  The airman who waved me in was wearing all he'd got left – Tin helmet, pyjamas & sea boots. He looked very amazed when I said "This war's getting quite brisk isn't it?" I didn't realise that the blitz had just happened. He had a bullet through the front of his tin hat which had torn the seat of his trousers! The hangars were burning, all the buildings were partly demolished, & bomb splinters were all over the aerodrome – still hot so I picked a few up. I had difficulty selecting a landing path between the craters. But remarkably few aeroplanes were damaged.
Later a Hurricane caught fire in the air & landed wheels up in flames. Neither the ambulance nor the fire tender could go out to it. The ambulance was on its side & the fire tenders tyres were all burst by blast. The pilot escaped but there were some thousands of machine gun bullets in the fire & these were going off for two hours afterwards, so no one could go near. Delayed action bombs also blew up at intervals so my taxi could not come to collect me. The operations room arranged a lift for me to Hatfield in a Blenheim. The Sergt. pilot landed at Radlett in error, and asked me up in front to navigate him to Hatfield! Visibility about 20 miles. Amy Johnson gave me a lift home from there in her Anson.  Thus I hitch hiked my way home after an exciting day – but the damage at North Weald was depressing, but thank God, the casualties were remarkably few.
---
Mary Ellis 1917-2018

It is with great sadness that we learn of the death on 24 July 2018  of Mary Ellis, one of the few remaining ATA pilots.  Mary was 101 years old: the photograph below was taken in the garden of 10 Downing Street on 23 May when Mary and our chairman Richard Poad were invited by the Prime Minister to attend an RAF 100 reception.  Mary was in fine form and especially enjoyed talking to student pilots and air cadets.  Holly, one of the students, told Mary "You are my inspiration" which pleased Mary no end.
Mary was a farmer's daughter from Oxfordshire and joined ATA in October 1941.  She was based at Hamble for almost all her ATA time, ferrying around 1,000 aircraft of 76 different types to 210 different airfields!   She loved anything that was "fast and furious" and ferried 403 Spitfires, including 77 from Eastleigh outside Southampton.  In 1943 she graduated to Class 4 twin-engined planes like the Mosquito, the Hudson and the Wellington; her conversion course would have been at the headquarters airfield at White Waltham, where ATA's groundschool and Advanced Flying Training School were both located.   Once she delivered a Wellington and the ground crew would not believe she was the pilot until they had searched the aircraft from nose to tail.  In the summer of 1945 Mary became one of only two ATA women to ferry the RAF's first jet, the Gloster Meteor.  She said that she had no special training except a warning to "watch the fuel gauges, because it goes from full to empty in 40 minutes".  Mary's favorite aircraft was the Spitfire but she loathed the amphibious Walrus which "wobbled across the sky with a mind of its own" and "must have been designed by R J Mitchell on a bad day".
After ATA was disbanded on 30 November 1945 Mary kept ferrying planes as she (and several other women, including Rosamund Steenkamp) transferred to RAF 41 Group for several months.  Pilots' logbooks show the stamp on monthly summaries changing from 'ATA No 1 Ferry Pool' to 'RAF No 1 Ferry Pool'.  Subsequently Mary moved to the Isle of Wight, where she was Commandant of Sandown Airport. To mark her 100th birthday, the Isle of Wight Council granted her the Freedom of the island, which gave her the right to drive a flock of sheep down the main street of Newport, a right she never exercised but which one can quite imagine her doing!  Behind the modest, gentle and kind exterior there was also a steely determination.  Now she has 'slipped the surly bonds of earth' and will be greatly missed.
Mary's book A Spitfire Girl is available through our on-line shop and is a really good read.  It also has several fascinating extracts from her logbooks.  Highly recommended.
Several reports of Mary's death have stated that she was the last surviving female ATA pilot or even that she was the last ATA pilot.  This is 'fake news'!  We know of two ATA veterans in the UK, one man and one woman, one ATA woman in western Canada and another in California, both of the latter about to be 100 years old.  We also know of several ground engineers and ATC cadets, the latter being employed by ATA as messengers and pilot's assistants.  If you are reading this and know of any ATA veterans, whatever their jobs within the organisation, please get in touch with us.
---
Downing Street

On Wednesday 23 May, the Heritage Centre was honoured to be invited by the Prime Minister to send representatives to a reception held at 10 Downing Street to mark the 100th anniversary of the RAF.  Also invited was ATA veteran Mary Ellis, aged 101, making one of her very last public appearances; she died on 24th July.   The photo above shows Mary with our chairman Richard Poad and three student pilots from the University of London Air Squadron.  Holly, on the left of the picture, told Mary that she had been her inspiration.  The PM spent several minutes with Mary and mentioned ATA is the opening moments of her speech to the guests assembled in the garden of No.10.  What a privilege to be in a place where so much history has been made!
---
¡VIVA CHILE!
We record with sadness the death on February 5th of ATA veteran Margot Duhalde, known to all as 'Chile' after her homeland.  She served from 1 September 1941 until 30 November 1945, was qualified to fly all types up to Class 4 (twin-engined operational types) and ferried more than 1500 aircraft, according to a French source.
Margot Duhalde was born in 1920 in southern Chile and always wanted to fly. According to her mother, she started saying 'plane' before she could say 'Mama'.  At age 16 she went to Santiago, learned to fly and within two years was the first Chilean woman to gain a commercial licence.  In April 1941 she left Chile to travel to Britain to join the Free French, speaking neither English and nor French.  The Free French had no place for a woman pilot but by a lucky chance she learned about ATA and presented herself at White Waltham with a letter written for her by a French pilot.
She was flight tested in a Tiger Moth, with Margaret Ebbage giving hand signals as instructions from the front seat.  But on her first cross country she got lost among the barrage balloons over London, almost ran out of fuel and made a messy forced landing in a field in Enfield (north of London). Unable to explain herself to the local police, she was promptly arrested.  Pauline Gower was able to get her released and then threw her out of ATA – until Captain A R O Macmillan, the Chief Instructor, suggested that Chile should work in the hangars for 3 months to improve her English.
Chile was posted to the all-woman pool at Hamble, where she became firm friends with Maureen Dunlop who had been brought up in Argentina.  Rapid-fire Spanish could often be heard in the crew room.  In contrast she and Polish Anna Leska had a long-running feud and ended up in front of their C.O. Margot Gore.  Alison King (Operations Officer) described Chile as 'full of inexhaustible and frightening energy, with eyes like polished coals'. Diana Barnato-Walker remembered Chile as 'an extremely pretty, dark girl, with tiny, beautiful hands' and 'an efficient and much-loved pilot who had an excellent r