VISITORS TO THE ATA MUSEUM
On October 12th we were delighted to welcome to the museum Minnie Churchill, daughter of ATA's Commanding Officer Gerard d'Erlanger, and her close friend Jocelyn 'Joss' Floyd, daughter of ATA pilot Theodora Macleod.  Before their visit, we knew nothing about Theodora, known to all as Theo, apart from her dates of service.  She was born in 1913 Theodora Wills and was married by the time she joined ATA on 7 June 1943. She does not seem to have had any previous flying experience, although she had her own light aircraft after the war. We assume that she was trained ab initio at Thames and Barton-in-the-Clay but we don't know which Ferry Pool she was posted to when she completed her training – which included many cross-country navigation exercises.  In due course she did a Class 4 conversion and made her first flight in a Spitfire. But… when she told her brother David in jest that it was "absolutely terrifying" he took her at her word and insisted that this flying lark was too dangerous and she should resign from ATA forthwith!  She left ATA on 16 April 1945 and we bet she regretted it for years!  Joss Floyd told Trustee Richard Poad that a single photograph (left) is the sole piece of ATA memorabilia which survives, Theo's logbook being lost long ago.  Joss donated the framed photo to the museum and we are pleased to add it to our ever growing collection. If any ATA relative knows anything more about Theo please do let us know.
ST PATRICK's DAY – 17th MARCH

On St Patrick's Day we salute all the Irish men and women who served with ATA in a multitude of capacities. There were 8 men and 1 woman from the Irish Republic as pilots, together with further pilots and a couple of flight engineers who were born in northern Ireland.  Then lots of riggers, fitters, and other occupations as well. The boss of the Belfast Ferry Pool throughout its existence was Paddy Armstrong, in peacetime a pilot with Railway Air Services between Liverpool and Belfast.  Among his pilots were Leslie Warren (aged 53 when he joined) and Kipper Graham, a retired sea captain pictured here.  We hope there was nothing in his pipe!
Belfast served the Shorts factory and their bread and butter was the Stirling bomber.  Sunderland flying boats were also involved and to help with mooring duties ATA employed a small number of Sea Cadets. We bet they had fun.  We heard an amazing story about Paddy Armstrong recently.  When the Belfast Pool was being closed down, all the office furniture, files, etc were piled in the back of an Anson to go to Aston Down.  In the copilot seat was Jill Farquaharson, who was in charge of MT at Belfast. As soon as they were airborne Paddy gave control of the aircraft of Jill and promptly went to sleep.  Too much Guinness for lunch?!
Annette Mahon was born in Dublin and was one of the WAAFs recruited by ATA in 1944;  the story of these WAAFs recruited is well told in the book "WAAFs with Wings" by Peggy Lucas.  Annette served from May 1944 until the end of September 1945.  After her training Annette was posted to No 4 Ferry Pool at Prestwick, where she was known as the Barracuda Queen.  In the documentary film Spitfire Sisters she tells a wonderful story of flying over the heather covered hills of southern Scotland and suddenly thinking that the scent from the heather was very strong.  When she looked down into the cockpit well she saw that her feet were soaked in hydraulic fluid!  She used to say that she loved every minute in ATA and would do it all again, if she had to.   Annette married Dr Hill who was on ATA's medical staff.
On St Patrick's Day in 1942, the American Stuart Updike (based at White Waltham) recorded in his diary "three deliveries today, Mohawk, Hurricane & Spit – a really good day, visibility good and ceiling about 2000ft – had tea at Shawbury – very good too!"  But… the British weather changes all the time and the very next day he wrote "Flew an Anson through some stinking weather today, did not enjoy it one bit either.  Lunch at Sherburn (No 7 Ferry Pool in Yorkshire) with Coe and Eddie".
HAPPY 100th BIRTHDAY!
Today, June 12th, is the 100th birthday of ATA veteran Nancy Miller Stratford, who lives in California, USA.  Nancy was one of the American women recruited for ATA by Jackie Cochran, joining on July 9 1942 and serving until July 8 1945.  Nancy wrote a fascinating book called Contact! Britain! which is available on Amazon at https://www.amazon.co.uk/s?k=Contact%21+Britain%21&i=digital-text&ref=nb_sb_noss
After the war, Nancy had a wonderful aviation career, including flying helicopters in Alaska, and has received numerous accolades and awards.  Look her up at http://airtransportaux.com/members/miller.html
Happy birthday, Nancy!
ATA and D-DAY
6 June 1944 was a turning point in World War II but it seems that for ATA it was just another day. We have looked at some of our 140 logbooks and here are some of our findings.
At Hamble (left, with landing craft moored in the river prior to D-Day) the ladies were busy.  Diana Barnato-Walker flew an Auster from Hamble to Tangmere followed by an Albacore from Hamble to Eastleigh. Mary Wilkins (later Ellis) flew a Spitfire from Hamble to Cowley, a Fairchild Argus from Brize Norton back to Hamble and then another Spitfire from Hamble to Aston Down in Gloucestershire. Later she wrote 'D-Day' in the margin of her logbook and highlighted the entries. Philippa Bennett started with a taxi flight to White Waltham, then took an Auster to West Hampnett (now known as Goodwood) and a Fairchild back to Hamble. Then an Albacore to Eastleigh (5 mins) and a Swordfish also from Hamble to Eastleigh. Jackie Sorour (Moggridge) ferried a Mosquito from Hullavington to Lasham and another from Shawbury to Lasham, while Monique Agazarian did 1hr 45mins taxi flying from Heston to Northolt to White Waltham to Luton to Woburn to White Waltham. All in a day's work for ATA pilots!
In Scotland Jose Carreras flew a Beaufighter, 2 Ansons, a Boston and a Fulmar. In Yorkshire Ratcliffe-based Ruth Ballard was being checked out on a Halifax at Marston Moor and from Aston Down Charles Tutt flew 4 Ansons, a Typhoon, an Albermarle and a Typhoon.
After the Battle of Normandy was won, Ansons of ATA's Air Movements Flight flew stores, plasma, maps and radios to Normandy and with the allied advance they ranged as far afield as Oslo and Cairo. In 12 months they flew 8485 hours and carried 3,430 passengers and 883 tons of cargo.
TWO NEW ATA MEMORIALS
Mary Webb Nicholson (USA) and Lettice Curtis were remembered at ceremonies on 22 and 23 May 2019 respectively.
Mary Nicholson was the only American woman to be killed in ATA service, when the propeller of her Miles Master detached itself near Worcester.  In the ensuing crash the aircraft hit an agricultural barn at Littleworth and caught fire; bystanders, including the farmer, were unable to save Mary from the flames.    She died on 22 May 1943 and on the precise anniversary a group of local aviation enthusiasts led by Mr Geoffrey Hudson unveiled a memorial plaque on one of the surviving buildings on the site.
On 23 May 2019 a wing of the spanking new Star and Garter home at High Wycombe was named in honour of Lettice Curtis, one of ATA's most accomplished pilots and the first woman to fly a 4-engined bomber in the autumn of 1942.  Lettice's niece and her husband travelled from Norfolk to attend the ceremony; her niece is shown admiring the citation in the Lettice Curtis Wing.
CYMRU AM BYTH (Wales for ever!)
March 1st is St David's Day and so we salute the Welsh wizards of ATA, who appear in the employee listings only as British.  We have looked at our collection of over 300 ATA travel permits issued in 1944.  They provide information about date and place of birth, and reveal 5 pilots and 5 flight engineers, all men.  As there were 1250 ATA aircrew we would guess than the Welsh contingent numbered many more than 10.
One of those we found was First Officer Gwynne Johns (left), who was born in Llandovery, 27 miles north of Swansea.  He was a pre-war champion parachutist and in civilian life a bank manager.  His age and his glasses would have barred him from RAF service, but ATA were happy with both.  He was based at Kirkbride, the Ferry Pool known as the 'salt mines' on the Solway Firth west of Carlisle.  In his right hand is his parachute and in his left his maps and his essential copy of Ferry Pilots Notes, the bible of every ATA pilot.  Did you know that our on-line shop sells facsimile copies of Ferry Pilots Notes?  Another Welshman was Captain George Pine (right) , born in Porthcawl.  He was based at Whitchurch (No.2 Ferry Pool) and was qualified Class 5, ie 4-engined bombers.  At the end of the war he was awarded the MBE.
THE FLYING BUSES
The first 8 women to join ATA at Hatfield in January 1940 were honoured by the local bus company UNO BUS at a ceremony on 4 February when 8 new buses were named after them!   The youngest of the 8 was Joan Hughes, then aged 21 with 6 years of flying behind her.  Joan was one of only 11 women to be cleared to fly 4-engined bombers from early 1943.  After the war, Joan was a founder of West London Aero Club at White Waltham, where she was an instructor for many years. One of the volunteers in our ATA gallery was taught fly by Joan, who also flew replica aircraft for the films 'Those Magnificent Men in ther Flying Machines', 'The Blue Max' and 'Thunderbirds'. 
At a ceremony held in Hatfield University's Fielder Centre, Richard Poad, chairman of the Maidenhead Heritage Centre, which has a huge collection of ATA memorabilia, spoke about the amazing achievements of ATA's women.  John Lumsden also recalled stories about his Aunt, Marion Wilberforce – one of those who has a bus named in her honour.  Marion was another of the 11 ATA women to be cleared to fly 4-engined bombers.
After the formal presentations, the Mayor of Welwyn Hatfield Borough Council, Councillor Barbara Fitzsimon, cut the ribbon on the Marion Wilberforce bus. Each bus has display panels inside, with photos and text from Maidenhead Heritage Centre. so that passengers can learn about the background of each of those named and learn about ATA. The other ladies celebrated were: Joan Hughes, Gabrielle Patterson, Margaret Fairweather (killed in ATA service), Winifred Crossley, Margaret Cunnison, Mona Friedlander and Rosemary Rees
Background information: Uno (formerly UniversityBus) is a bus service operated by the University of Hertfordshire, England, serving members of the general public, and also its own students and staff. The service was set up in 1992, growing out of a shuttle service previously operated for students at Wall Hall college near Watford connecting them to the other campuses of the University and the Polytechnic (Hatfield) before it.
It provides student transport to the expanding university from local areas as well as improving east-west travel across Hertfordshire and has opened up new links from North London. Services have expanded rapidly as the University has closed outlying sites at Watford and Hertford and developed the new de Havilland Campus on the site of the former Hatfield airfield.
ATA and THE BATTLE OF BRITAIN
In the summer of 1940 ATA was still a young organization with around 100 pilots.  But as today September 15th is Battle of Britain Day it gives us an excuse to trawl through the handful of logbooks (among the 130+ in our collection) which were kept by ATA pilots serving at the time of the Battle of Britain.  We have managed to find these entries, but the very best account of ATA and the Battle of Britain is in the diary of Arnold Watson, whose entry is also reproduced here.
Stanley Brown (seconded from BOAC)
3 September           Hurricane                White Waltham – Kenley
10 September         Spitfire                    Brize Norton – Middle Wallop
27 September         Spitfire                    Little Rissington – Warmwell (satellite of MW)
30 September         Hurricane                Aston Down – Middle Wallop
15 October             Hurricane                Wroughton – Shoreham
Peter Mursell (later Director of Training)
23 September         Spitfire                    ??? – Tangmere
29 October             Spitfire                    West Malling – Gravesend
Jimmy Nettleton
28 August               Spitfire                    Hamble – Westhampnett (now Goodwood)
Philip Wills (later Director of Operations)
17 August               Hurricane                St Athan – Tangmere
19 August               Spitfire                    Kirkbride – Middle Wallop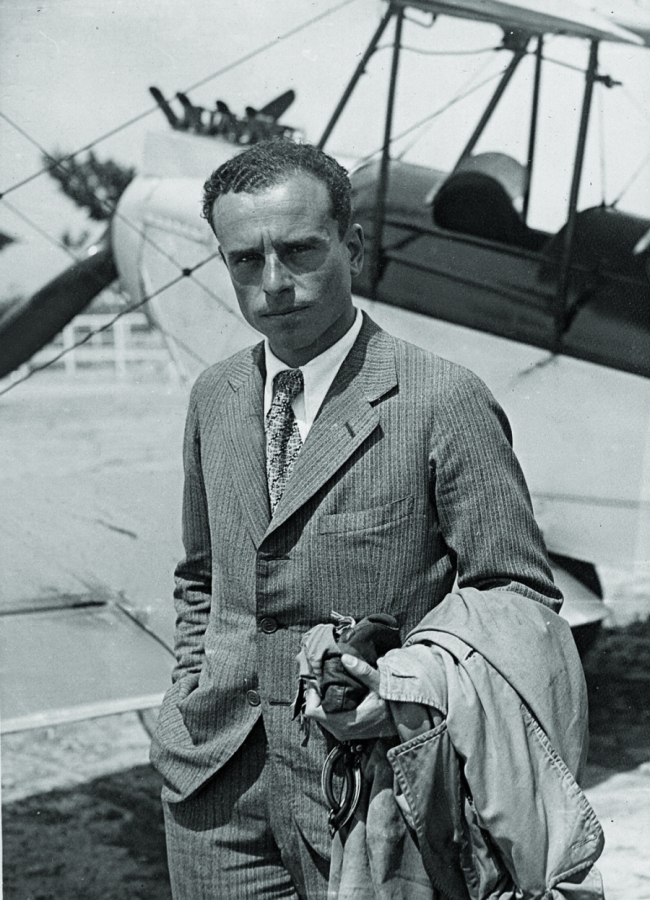 Josep Carreras (the only Spanish pilot in ATA, the first ATA pilot to fly a Liberator bomber and an instructor on Catalina flying boats. More about him in a subsequent post.)
10 September         Spitfire                    Brize Norton – Middle Wallop
J A V Watson: diary entry for 4 September 1940
The battle of Britain at its height. I landed a fully armed Hurricane at N. Weald in Essex (from Aston Down) 10 minutes after the Hun dropped 500 bombs there.  The airman who waved me in was wearing all he'd got left – Tin helmet, pyjamas & sea boots. He looked very amazed when I said "This war's getting quite brisk isn't it?" I didn't realise that the blitz had just happened. He had a bullet through the front of his tin hat which had torn the seat of his trousers! The hangars were burning, all the buildings were partly demolished, & bomb splinters were all over the aerodrome – still hot so I picked a few up. I had difficulty selecting a landing path between the craters. But remarkably few aeroplanes were damaged.
Later a Hurricane caught fire in the air & landed wheels up in flames. Neither the ambulance nor the fire tender could go out to it. The ambulance was on its side & the fire tenders tyres were all burst by blast. The pilot escaped but there were some thousands of machine gun bullets in the fire & these were going off for two hours afterwards, so no one could go near. Delayed action bombs also blew up at intervals so my taxi could not come to collect me. The operations room arranged a lift for me to Hatfield in a Blenheim. The Sergt. pilot landed at Radlett in error, and asked me up in front to navigate him to Hatfield! Visibility about 20 miles. Amy Johnson gave me a lift home from there in her Anson.  Thus I hitch hiked my way home after an exciting day – but the damage at North Weald was depressing, but thank God, the casualties were remarkably few.
Mary Ellis 1917-2018

It is with great sadness that we learn of the death on 24 July 2018  of Mary Ellis, one of the few remaining ATA pilots.  Mary was 101 years old: the photograph below was taken in the garden of 10 Downing Street on 23 May when Mary and our chairman Richard Poad were invited by the Prime Minister to attend an RAF 100 reception.  Mary was in fine form and especially enjoyed talking to student pilots and air cadets.  Holly, one of the students, told Mary "You are my inspiration" which pleased Mary no end.
Mary was a farmer's daughter from Oxfordshire and joined ATA in October 1941.  She was based at Hamble for almost all her ATA time, ferrying around 1,000 aircraft of 76 different types to 210 different airfields!   She loved anything that was "fast and furious" and ferried 403 Spitfires, including 77 from Eastleigh outside Southampton.  In 1943 she graduated to Class 4 twin-engined planes like the Mosquito, the Hudson and the Wellington; her conversion course would have been at the headquarters airfield at White Waltham, where ATA's groundschool and Advanced Flying Training School were both located.   Once she delivered a Wellington and the ground crew would not believe she was the pilot until they had searched the aircraft from nose to tail.  In the summer of 1945 Mary became one of only two ATA women to ferry the RAF's first jet, the Gloster Meteor.  She said that she had no special training except a warning to "watch the fuel gauges, because it goes from full to empty in 40 minutes".  Mary's favorite aircraft was the Spitfire but she loathed the amphibious Walrus which "wobbled across the sky with a mind of its own" and "must have been designed by R J Mitchell on a bad day".
After ATA was disbanded on 30 November 1945 Mary kept ferrying planes as she (and several other women, including Rosamund Steenkamp) transferred to RAF 41 Group for several months.  Pilots' logbooks show the stamp on monthly summaries changing from 'ATA No 1 Ferry Pool' to 'RAF No 1 Ferry Pool'.  Subsequently Mary moved to the Isle of Wight, where she was Commandant of Sandown Airport. To mark her 100th birthday, the Isle of Wight Council granted her the Freedom of the island, which gave her the right to drive a flock of sheep down the main street of Newport, a right she never exercised but which one can quite imagine her doing!  Behind the modest, gentle and kind exterior there was also a steely determination.  Now she has 'slipped the surly bonds of earth' and will be greatly missed.
Mary's book A Spitfire Girl is available through our on-line shop and is a really good read.  It also has several fascinating extracts from her logbooks.  Highly recommended.
Several reports of Mary's death have stated that she was the last surviving female ATA pilot or even that she was the last ATA pilot.  This is 'fake news'!  We know of two ATA veterans in the UK, one man and one woman, one ATA woman in western Canada and another in California, both of the latter about to be 100 years old.  We also know of several ground engineers and ATC cadets, the latter being employed by ATA as messengers and pilot's assistants.  If you are reading this and know of any ATA veterans, whatever their jobs within the organisation, please get in touch with us.
---
Downing Street

On Wednesday 23 May, the Heritage Centre was honoured to be invited by the Prime Minister to send representatives to a reception held at 10 Downing Street to mark the 100th anniversary of the RAF.  Also invited was ATA veteran Mary Ellis, aged 101, making one of her very last public appearances; she died on 24th July.   The photo above shows Mary with our chairman Richard Poad and three student pilots from the University of London Air Squadron.  Holly, on the left of the picture, told Mary that she had been her inspiration.  The PM spent several minutes with Mary and mentioned ATA is the opening moments of her speech to the guests assembled in the garden of No.10.  What a privilege to be in a place where so much history has been made!
---
¡VIVA CHILE!
We record with sadness the death on February 5th of ATA veteran Margot Duhalde, known to all as 'Chile' after her homeland.  She served from 1 September 1941 until 30 November 1945, was qualified to fly all types up to Class 4 (twin-engined operational types) and ferried more than 1500 aircraft, according to a French source.
Margot Duhalde was born in 1920 in southern Chile and always wanted to fly. According to her mother, she started saying 'plane' before she could say 'Mama'.  At age 16 she went to Santiago, learned to fly and within two years was the first Chilean woman to gain a commercial licence.  In April 1941 she left Chile to travel to Britain to join the Free French, speaking neither English and nor French.  The Free French had no place for a woman pilot but by a lucky chance she learned about ATA and presented herself at White Waltham with a letter written for her by a French pilot.
She was flight tested in a Tiger Moth, with Margaret Ebbage giving hand signals as instructions from the front seat.  But on her first cross country she got lost among the barrage balloons over London, almost ran out of fuel and made a messy forced landing in a field in Enfield (north of London). Unable to explain herself to the local police, she was promptly arrested.  Pauline Gower was able to get her released and then threw her out of ATA – until Captain A R O Macmillan, the Chief Instructor, suggested that Chile should work in the hangars for 3 months to improve her English.
Chile was posted to the all-woman pool at Hamble, where she became firm friends with Maureen Dunlop who had been brought up in Argentina.  Rapid-fire Spanish could often be heard in the crew room.  In contrast she and Polish Anna Leska had a long-running feud and ended up in front of their C.O. Margot Gore.  Alison King (Operations Officer) described Chile as 'full of inexhaustible and frightening energy, with eyes like polished coals'. Diana Barnato-Walker remembered Chile as 'an extremely pretty, dark girl, with tiny, beautiful hands' and 'an efficient and much-loved pilot who had an excellent record', though in one interview Chile said she had about 10 accidents which nearly killed her!
Chile's logbooks are believed to be in a museum in France.  But in the logbook of Philip Rogers, an air cadet employed at Hamble as messenger-cum-dogsbody-cum-pilot's assistant, we have found seven flights when he flew with Chile.  The types include the Oxford, Hudson III, Ventura, Fairchild Argus (air taxi), Swordfish, Albermarle and Barracuda – which gives us an idea of the huge variety of aircraft flown by ATA pilots.  Being based at Hamble, Chile would have flown many Spitfires, which she described in these words: 'the sensitivity of the Spitfire was made for women'.
She returned to Chile in 1947 where she lived the rest of her life, marrying three times and working as a commercial pilot, instructor and finally as an air traffic controller, retiring at the age of 81.  She was 86 when she made her last flight at the controls of an aircraft.
Margot Duhalde had a French Basque grandfather, and in 2006 was made a Knight of France's Legion of Honour, later being given the honorary rank of colonel by the Chilean air force.
¡VIVA CHILE!
---
MARY ELLIS
Happy Birthday and Congratulations!
ATA veteran Mary Ellis (nee Wilkins) celebrates her 101st birthday on February 2nd and we send our very best wishes to her.
In mid January Mary was also granted the Freedom of the Isle of Wight, where she has lived for many years, spending her post-ATA career as Commandant of Sandown Airport.  She loved "any aircraft which was fast and furious".
Mary is a farmer's daughter from Oxfordshire and joined ATA in October 1941.  She was based at Hamble for most of her ATA time, ferrying 403 Spitfires, including 77 from Eastleigh.  In 1943 she graduated to twin-engined planes like the Hudson and the Wellington.  Once she delivered a Wellington and the ground crew would not believe she was the pilot until they had searched the aircraft from nose to tail.  Mary's favorite aircraft was the Spitfire but she loathed the amphibious Walrus which "wobbled across the sky with a mind of its own" and must have been designed by R J Mitchell on a bad day.
Mary's book A Spitfire Girl is available through our on-line shop and is a really good read.  It also has several fascinating extracts from her logbooks.  Highly recommended.
---
JOY LOFTHOUSE ATA
It is with great sadness that we report the passing of Joy Lofthouse.
Joy learned to fly before she learned to drive. She joined the ATA in 1943 after spotting a notice in a magazine calling for women to learn to fly. The Aeroplane magazine had said the ATA had run out of qualified pilots and were training – so she applied and was in.
Joy trained at Thame (Oxfordshire) and learnt to fly Class 1-3 aircraft. Nine days of technical training and 10 days of flying meant you were deemed "ready" – to fly solo. She was then assigned to 15 Ferry Pool at Hamble.  Joy flew no fewer than 18 different types of aeroplane across her career but the Spitfire remained her favourite.
Later she declared how much fun she had had.  The Maidenhead Heritage Centre holds a filmed interview with Joy in the collection, recorded about 8 years ago.
In 2015, Joy flew a Spitfire again, 70 years on.  She and fellow ATA pilot Mary Ellis were honoured at the annual Festival of Remembrance at the Royal Albert Hall in London.
Joy is seen here (far left) with Mary Ellis and Ivan Flynn (ATA ground engineer).
---
HAPPY 100th BIRTHDAY!
Congratulations to ATA pilot Eleanor Wadsworth who celebrated her 100th birthday on October 15th.   Eleanor joined ATA  as an architect at White Waltham, designing flight crew rest rooms, toilet blocks and parachute packing buildings.  When the supply of experienced pilots dried up, ATA began to train pilots from scratch, and Eleanor was one of the first six ATA ground staff to undergo pilot training.  Ground school instruction was at Thame, where she met Mary Wilson, and their flying training on Tiger Moths or Magisters took place at Barton-le-Clay.  Dennis Lead was her instructor.  She was checked out by the CO, Captain Timber Woods, "a nice old boy", and then did lots of cross country navigation practice.  Eleanor served briefly at Sherburn-in-Elmet, Hamble (where she flew her first Spitfire from Eastleigh to Yeovil) and Cosford, where she remembers Adrian Boult and the London Symphony Orchestra giving a concert in the mess.  Then she settled at Ratcliffe, not far from her family home at Nottingham.  She flew 508 flying hours with ATA on 22 different types of aircraft in classes 1-3.
Her least favorite aircraft was the Fairey Barracuda, "an ungainly contrivance which never looked as it ought to fly" and when she had a ride in a Liberator found it "a bit like driving a bus, an unstable heavy-handed sort of aircraft".
Her biggest fright was an engine failure at 500ft after takeoff in a fully loaded Fairchild Argus taxi aircraft; with the assistance of Captain Joan Hughes in the right hand seat she managed to land back on a cross wind runway, where "we ground looped in the wind, but we were all down safely".
This post is based on an interview carried out in 2011.  The interview gives the lie to the myth that ATA pilots received no training whatsoever!  The full interview is available to visitors to the ATA exhibition at Maidenhead Heritage Centre.
FREDDIE LAKER AND ATA
Remember Skytrain, the pioneer low-cost no-frills service to New York, started 40 years ago on 26 September 1977 by Laker Airways?  £59 one-way fare, bring your own food?
Did you know that Freddie Laker himself served with ATA during World War II?
Born in 1922, Laker started his aviation career with Short Brothers in Rochester, where Stirling bombers and Sunderland flying boats were built.  He joined ATA in August 1942 as a flight engineer and served until the end of 1945.  Based at White Waltham, he frequently flew with Captain J A V Watson, ATA's chief test pilot whose diaries are quoted on this website.
Flight engineers at White Waltham, 1943.  Freddie Laker is 3rd from the left in the back row.
The following entries highlight Freddie Laker's skill and experience.
4 December 1942 – Throttle fails on Stirling I
5 minutes cruising westward from Bourn, the boost of the starboard outer engine started to rise despite closing & priming the Exactor control. My Engineer Laker has much experience of installing these throttles and went to work with his tool kit.  Found a loss of fluid and no spare can to top up with.  So I suggested that he should pee in it, but he had the good idea of using what was in the drip tray.  All his efforts were in vain; evidently the pipe was broken at the engine end.
So there we were, unable to alter the boost, which had automatically gone to climbing power.  Arriving at Hullavingron in excellent weather, I made the circuit with the inners shut down & the outers at climbing power.  Just before the last turn in, we opened up the inners, turned the fuel of the defective engine off & ignition off.  On the final approach with full flap down, we feathered the dead propeller and motored in on both inners.  When I wanted to reduce the flap to 2/3, Laker found it would not come up – probably the batteries were flat.  So we were lucky to get in OK by opening up the inners to +2.
Good lateral thinking and good airmanship – all in an day's work with ATA.  8 days later, Watson and Laker were involved in preparing an Avro York for a flight for General Smuts. Watson's diary entry includes these words
The Avro test pilot flew a demonstration circuit; Laker's comment was "He demonstrated everything that should not be done with an aeroplane!"
JUNE COLE ATA
We record with sadness the death on 13 September 2017 of Marjorie "June" Cole, nee Farquhar, who was one of the select group of 17 WAAFs who were recruited by ATA in 1944.  In the WAAF she had been employed in radar and radio detection work.  She joined ATA on 21 February 1944, trained at Barton-in-the-Clay and Thame, and then served at  No 5 Pool Thame, No 4 Pool Prestwick, No 6 Pool Ratcliffe,  and No 1 Pool White Waltham.  According to her logbook she flew a total of 343.55 hours, on 15 different types of aircraft.  She left ATA on 30 September 1945.
Photo: Ditty (Edith) Beaumont (left) , June Cole (right). 
But that was not the end of her association with ATA as she was tasked to represent ATA in the Victory Parade in London in 1946.  We offer our condolences to her family and are grateful to her son for this information.  If you would like to find out more about the ex-WAAF pilots, there is a book called WAAF with wings by Y M Lucas.  In it June Farquhar records that at her medical her height was recorded as 5ft 5 ins, when it was actually 5ft 2ins!  She has slipped the surly bonds of earth.
DAPHNE ROBINSON ATA
We record with sadness the death on August 18th of ATA pilot Daphne Robinson (formerly Hansen-Lester) at the age of 101.   She originally hailed from Portsmouth and gained her Aviator's Certificate in Southampton in 1935.  She served as a Second Officer with ATA from 23 September 1942 until 13 February 1944, flying the iconic Spitfire among many other types of aircraft.  She was based at No.15 Ferry Pool at Hamble. She had lived in the Devizes area since 1971, and a memorial service for her will be held in Seend just outside Devizes on October 14th.   Daphne's granddaugher Taniya Morris became an Army helicopter pilot in 1997.  Flying must run in the family.
The photos show her in the uniform of an ATA Cadet, when she was under training, and many years later admiring the Spitfire at the Solent Sky Museum in Southampton.
SPECIAL VISITOR FROM CALIFORNIA
We were delighted to welcome John Richards, son of American ATA pilot Evelyn Hunter, who served with ATA from June 1942 to August 1943.   Evelyn was born in Sunderland but after moving to the USA became am American citizen in 1938.   She opened a flying school at Montebello airport in El Monte near Los Angeles where she got a contract to train pilots under the Civilian Pilot Training program which lasted until civil aviation in the U.S. was suspended after Pearl Harbor.
Evelyn Hudson was an active air racer when she applied for service in the Air Transport Auxiliary. She belonged to the Ninety-Nines and was well acquainted with the President, Jackie Cochran, who recruited 27 American women to ATA.   At 33 years of age, Hudson had 2700 hours of logged flight time on her application, holding a Commercial license with both an instrument and instructor's ratings. Hudson traveled to England with the fourth group of American women in June of 1942. She was released from the ATA in August of 1943 due to an injury sustained in an accident in a Wellington.  Her son John has agreed to let Maidenhead Heritage Centre have copies of his mother's logbook and ATA photographs.  Thank you, John!
NEW BOOK ABOUT AMEILIA EARHART
Just arrived in our museum shop is a new book about the great aviatrix Amelia Earhart, the darling of the 1930s until she disappeared in the Pacific without trace while attempting a round-the-world flight.  This book captures the courageous nature of this pioneering aviator and advocate of womens' equality.  For more details click here http://www.maidenheadheritage.org.uk/shop
WE SALUTE MARY ELLIS ON HER 100th BIRTHDAY
Mary Ellis, one of Air Transport Auxiliary's most accomplished female pilots, celebrated her 100th birthday on February 2nd.   Mary was born at Leafield near Fairford in Gloucestershire and not a million miles from RAF Brize Norton.  She joined ATA in October 1941 and served until the end of December 1945.  For almost all that time she was based at No.15 Ferry Pool at Hamble, one of two ATA bases staffed entirely by women.  With the Supermarine factory just round the corner in Southampton, Spitfire deliveries were the bread and butter of Hamble pilots.  Mary ferried 403 Spitfires, including 70 out of Eastleigh airfield.  She qualified as a First Officer and was authorised to fly all aircraft types up to Class 4 operational twin engined planes such as the Mosquto and the Wellington, which ATA pilots flew solo.    On one occasion she delivered a Wellington and the ground crew would not believe she was the pilot until they searched the aircraft from one end to the other.  Mary has just published her autobiography "A Spitfire Girl" in which she describes her action-packed career which spans almost a century of aviation.  From Tiger Moths to Hurricanes and Spitfires, from Wellington Bombers to post-war jets, Mary's desire to take to the skies has never faltered.  "A Spitfire Girl" is available from the Maidenhead Heritage Centre shop on  http://maidenheadheritage.org.uk/shop/     It is a great read and if you buy the book from us you will supporting our work to preserve the ATA story for future generations.
NEW YEAR IN ATA, 75 YEARS AGO
Here are more entries from the diary of the young American pilot Stuart Updike, who was based at No.1 Ferry Pool at White Waltham.  The extracts  follow on from those in the previous piece about Christmas.  Expect further extracts after the New Year break.
30 Dec  Have a bad cold, didn't go to work today, too foggy to fly anyhow – stayed in bed except for going out to lunch.
31 Dec  Didn't fly again today, fog. Went to Club's New Uear's Eve party, then top Colonel's – arrived home at 4:00am. (He WAS young!)
1 Jan   Slept late today – too foggy to work – Kitty, Rita & I went to Ray Lodge for a bit this eve – wrote letters home. (Ray Lodge was a club in Maidenhead)
2 Jan   Had a Spit this morning – weather not too good – stopped to have oil removed from windscreen at Pershore (in Worcestershire)
AN ATA CHRISTMAS 75 YEARS AGO
We are lucky to have several diaries in our ATA collection here in Maidenhead.  The following extracts come from the diary of the American pilot Stuart Updike, who served with ATA from May 1941 to June 1942. This sequence of entries starts on Christmas Eve.
24 Dec  Had 3 Spits today, 5 landings – a Canadian Sgt. Pilot on "Ops" gave me a pack of Sweet Caps – good cigarettes
25 Dec  Worked today – two Turkey dinners, one at Shawberry (weather landing at lunchtime) & one at the Austin's (note Shawberry means RAF Shawbury near Shrewsbury, and the Austens were the family with which he was billetted near Maidenhead)
26 Dec  Eric, Aneah and I had a party at the Services Club today – cocktails at Col. Ticklers – cards with Mr Austin at Bach's
27 Dec  Haven't felt too good today – but of a cold  – whiskey and Aspirin – 3 mnoer boys killed – Lee Garlow, Texan
28 Dec  Two Hurry's today, pretty bad weather – just read about Jap raids on Manila – we sure were caught off guard.  (The Japanese invasion of the Philippines had started on December 8th,  10 hours after the attack on Pearl Harbour)
29 Dec  No flying – foggy and very cold – attended a ball at Lady Astor's this evening (at her mansion at Cliveden) – talked to Commander's wife practically all the time.
ATA's SPEED MERCHANTS
Three great speed merchants flew for Air Transport Auxiliary during World War II.  They were Wally Handley, Luis Fontes and John Cobb.
Walter Handley was born in 1902 in Aston, Birmingham.  He was a champion inter-motorcyclist ace well-known to crowds at the Isle of Man Tourist Trophy races and later at Brooklands on motorcycles and in cars. Three times European motorcycle champion and holder of numerous world records, he later took up racing cars (MG and Riley) and learned to fly as a recreation.  He owned an SE5A, a Bristol Fighter and a Puss Moth.  When war broke out he had around 700 flying hours and was one of the first group of men to join ATA on 11 September 1939.  He was appointed as CO of No.3 Ferry Pool at Hawarden (nr Chester) where ATA's first offices were in a semi-detached house on the edge of the airfield.  Hawarden was ATA's largest Ferry Pool.
Wally Handley was killed on 15 November 1941, exactly 75 years before the date of this post.  He went in an air taxi Anson to  Kirkbride near Carlisle to collect a Bell Airacobra to return to the maintenance unit at Hawarden.  The Airacobra's engine was behind the pilot, with a 10ft long drive shaft to the propeller, which made it prone to serious vibration.  It was also notorious for the long take-off run it required.  Handley's accident, in Airacobra AH598, is described in Brief Glory. "Before he had passed the end of the runway the engine was revving at an unnaturally high rate and black smoke poured from the exhaust. The engine continued to run imperfectly until the pilot reached about 700ft.  When about 3 miles from the aerodrome there was a loud explosion and a sheet of flamed enveloped the aft part of the machine.  The Airacobra turned about 45 degrees to port, flew on a little on an even keel and went into a dive from which it never recovered."  So perished an 'endearing character and a gallant airman'.
ATA's second speed merchant was Luis Fontes (1912-40), who won the Le Mans 24 hour race for Lagonda in 1935 and also raced aeroplanes.  However his racing career ended when he was arrested and charged with manslaughter after a head on collision resulted in the death of a motorcyclist. He served three years in jail and was banned from driving for 10 years.  Fontes had learned to fly at Woodley Aerodrome and qualified as a pilot in 1934.  He joined the Air Transport Auxiliary in 1940 as a civilian ferry pilot and became a First Officer based at White Waltham. Aged only 27, he died on 12th October 1940 ferrying Vickers Wellington Mk IC, R1156, which stalled after an engine failed while circling RAF Llandow, Glamorgan, and crashed in a nearby village.
Speed merchant No.3 was racing driver John Cobb (1899-1952).  In the first part of World War II he served as a pilot in the RAF but joined Air Transport Auxiliary in September 1942. Despite having raised the world land speed record to 376.91 mph  in his Railton special in 1939, he was apparently concerned that he wouldn't be up to the flying at ATA.  Given that most of the aircraft ATA were ferrying wouldn't fly anywhere near as fast as his land speed record, his apprehension was unfounded and he served until the end of June 1945.  Cobb was killed in 1952 while attempting to break the world water speed record on Loch Ness.
REMEMBERING ATA's CASUALTIES
In this season of Remembrance, we must not only remember the military casualties of both world wars and other conflicts, but also the 173 civilians of ATA who died in ATA service, including Amy Johnson.   As a group, they are commemorated on a special memorial in the crypt of St Paul's Cathedral, London, where members of the ATA Association gather every Remembrance Sunday for a short but special service.  Individually ATA aircrew, victims of poor weather, mechanical failure, pilot error or accidents in training, lie in many cemeteries around Britain.  The proportion of women fatalities was lower than the proportion of men.  The late Peter George said simply that "the women were more reliable.  They didn't do the same damn fool things as the men did."  The largest group of ATA graves is at All Saints' cemetery in Maidenhead, where 17 war graves represent men and women 6 different nationalities.
A full list of ATA fatalities is available if you  Click here for full details of ATA fatalities.
You will notice a group of 11 American pilots who never actually reached Britain.  Having been recruited in the USA and flight tested in Canada, they took ship for England aboard SS Nerissa, which was torpedoed and sank on 30 April 1941.  Notice also that the last ATA casualty was the South African Rosamund Everard Steenkamp whose Spitfire XIV crashed in Worcestershire on 19 March 1946 – months after ATA had been officially disbanded.  In fact a number of ATA pilots transferred to 41 Group RAF and continued ferrying from a base in White Waltham.
MOLLY ROSE RIP
We record with great sadness the death of ATA pilot Molly Rose on 16th October at the age of 95.  Molly was one of the greatest supporters of Maidenhead Heritage Centre's ATA work and will be greatly missed by us all.  She was born in Cambridge in 1920 and learned to fly in a Tiger Moth in 1937, gaining her licence when she was 17 years old.  The family firm was Marshalls of Cambridge and Molly started the war in the hangars 'having my bottom pinched by every passing man'.  But when ATA reduced its flying hour requirement for new recruits she was off.  She served from 16 September 1942 to 25 May 1945 and flew 38 different types – everything up to and including Wellingtons (Class 4).  She was based at the all women pool at Hamble, where she shared a flat between The Bugle Inn  and the yacht club with Betty MacDougall.  Spitfire deliveries were their 'bread and butter'.  273 of Molly's 486 deliveries were Spitifres!
We are sure you will be interested in this interview which has been posted on YouTube.  It was recorded at earlier this year at Molly's home at Bampton, not far from RAF Brize Norton. We have our own interview with Molly which was conducted by pupils at Furze Platt Senior School as part of a World War II history project. More…..
https://www.youtube.com/watch?v=F7n2Np5Fkng
100 YEARS YOUNG
Congratulations to ATA First Officer Raymond Eric Roberts, who celebrates his 100th birthday today, October 24th 2016.  Ray was born in London and his World War II service began in the RAF.  After injuring a leg baling out of a Miles Master trainer, he joined ATA in October 1941 and served until ATA was wound up at the end of November 1945, which is why Maidenhead Heritage Centre has a good head and shoulders photo of him taken from an ATA travel permit.  We believe that he was Class 5 qualified (4-engine bombers) because in 1945 he was scheduled for training on the Sunderland flying boat (Class 6).   His wife Lily was a parachute packer with ATA at No 2 Ferry Pool at Whitchurch near Bristol.  This last summer Ray's family arranged for him to fly in a Spitfire from Biggin Hill; his daughter kindly supplied the attached photo.
5 YEARS ON AND OUR ATA COLLECTION KEEPS ON GROWING
October 11th 2016 is the 5th anniversary of the Royal opening at Maidenhead Heritage Centre of Britain and the world's only exhibition and archive dedicated exclusively to Air Transport Auxiliary and the inspiring exploits of its 1246 male and female aircrew during World War II.  ATA's headquarters was at White Waltham on the outskirts of Maidenhead, making the town the spiritual home of ATA.
Our ambition is to be the centre of excellence for ATA research and our ever-growing collection at Maidenhead is one of the largest in the world.   It is regularly consulted by relatives of ATA veterans as well film, television and radio producers and by historians as well as writers of fiction.   We now have over 1500 photographs, many of them personal pictures from albums loaned by veterans or their relatives,  covering around 75% of ATA aircrew.  We have ambitions to make this 100% and so would be delighted to hear from anybody with ATA photos which they might be willing to lend for scanning.   The same applies to ATA logbooks, which are the primary historic evidence that this almost unbelievable story is actually true!  The museum already holds over 105 original or scanned logbooks of pilots, flight engineers and ATC cadets flying as pilot's assistant.  Possibly the most important are those of Ruth Ballard and Philippa Bennett, two of only 11 women to fly 4-engined bombers for ATA, and of Joe Stern, a Czech, and Josep Carreras from Spain, who were two of the handful of pilots cleared to operate flying boats.  Several fascinating diaries are in the collection, and our volunteers have also filmed over 40 interviews with ATA veterans – not just pilots, but ground staff as well.
The exhibition, simulator and archive is staffed by volunteers, most of them pilots, and is open 50 weeks a year.  Visitors have come from all over the world, including China, New Zealand, Australia, Poland and the USA, and excellent reviews are frequently posted on the TripAdvisor website. Our very popular Spitfire simulator was inaugurated by HRH Prince Michael of Kent and has been flown by British Prime Minister Theresa May as well as  ATA and RAF veterans and children of all ages from 9 to 94.
RUTH SMITH ATA
We record the death of Ruth Smith in September.  Ruth was one of many backroom people who helped ATA to run smoothly and worked in Ferry Pilots Records at the headquarters of ATA at White Waltham.  Along with other administration functions her office was not on the airfield itself but at a house called Altmore in Cherry Garden Lane.  Her great contribution to our knowledge about ATA is that in the autumn of 1945 she was detailed to collect and destroy the travel permits issued to ATA pilots.  However she decided to tear the passport type photos off the permits and wrote the names on the back. Eventually she got fed up of doing this and ripped out the whole page with the pilot's details.  The result is that Maidenhead Heritage Centre has photographs of 568 ATA pilots and also knows the date and place of birth of 223 of them.  Given that our collection also includes many group photos with names written below, it is calculated that we know the faces of at least 75% of the 1246 aircrew who worked for ATA during World War II.  Thank you Ruth!
AMY JOHNSON STATUE UNVEILED AT HERNE BAY IN KENT
On September 17th, Prince Michael of Kent unveiled a bronze statue of ATA pilot Amy Johnson on the seafront at Herne Bay, overlooking the Thames Estuary where Amy died after baling out of the Oxford aircraft she was flying from Blackpool to Kidlington on 5 January 1941.  Neither her body nor the aircraft were ever found.  As our Watson diaries record it was 'a spectacular end to a spectacular life'.  At the time of her death she was based at the ATA women's Ferry Pool at Hatfield, but living with friends not far from White Waltham.
Amy Johnson was the first woman in the UK to become an Air Ministry qualified ground engineer in 1929.  She became the first woman to fly solo to Australia, landing in Darwin on 24 May 1930 after 19 and a half days.  In 1931 she became the first pilot to fly from London to Moscow in one day.  In 1932 she flew solo from London to Cape Town in South Africa, breaking her husband Jim Mollison's previous record by 11 hours.
The Herne Bay statue was created by Ramsgate artist Stephen Melton and funded by local people and businesses.
The photographs were taken by John Webster and Amy Chau (British Women Pilots Association)
ATA – EQUAL PAY PIONEER
A recent British report on gender equality (or the lack of it) in the workplace reminds us that 73 years ago the intrepid women pilots of Air Transport Auxiliary achieved that very thing.  When women were first recruited by ATA in January 1940, they were paid 20% less than the men and restricted to trainer and communication aircraft such as Moths, Magisters, Oxfords and Ansons.  From July 1941 they were allowed to fly all single and twin-engined operational types such as Spitfires and Wellingtons (in ATA terms Aircraft Classes 1-4).   But the pay gap remained until 1943 when Lettice Curtis and Joan Hughes became the first two women to qualify on 4-engined bombers (Class 5).   At which point the Hon. Ben Bathurst, ATA's Director of Services and Personnel  petitioned Sir Stafford Cripps, Minister of Aircraft Production, for equal pay but was rebuffed.  Not until Pauline Gower, ATA's Director of Women Personnel, got to work on Cripps did he change his mind.  Nobody knows why, but perhaps it was to avoid embarrassment to the government when he was questioned in the House of Commons on the subject by Irene Ward MP on 18 May 1943.   In this way ATA became one of Britain's first equal opportunity employers.
However one wonders if women working as fitters and riggers in the hangars were paid the same as the men they worked alongside.  And when the gongs were handed out during and after the war, no woman received a higher honour than MBE, whereas all the senior men received OBE or better!  Clearly equality had its limits!  Incidentally Stafford Cripps was a vegetarian, so when he visited the ATA at White Waltham they fed him on macaroni cheese.
BLACK DAYS FOR ATA
10 August 1941, 75 years ago, was a black day for ATA when a Liberator AM261 with 22 people on board crashed into a mountain on the Isle of Arran having left Heathfield Ayr airport (next door to Prestwick) en route for the USA.  The navigator was Captain F D Bradbrooke, a colour-blind journalist on the 'Aeroplane', who had joined ATA on 11 September 1939, and three Radio Officers named Powell, Oliver and Rees are also listed as ATA casualties.  Who were all the others?
When the White Waltham Ferry Pool was opened in February 1940 it was commanded by Bradbrooke, but in early 1941 he was recommended for the Atlantic Ferry Service and went to Canada for a course on Hudson bombers.  These he subsequently flew across to Britain and then, as navigator, moved on to the 4-engined Liberator bomber.  He was navigator on the ill-fated flight which left Prestwick with a load of ferry pilots (not employed by ATA) returning to the USA.  The captain was E R B White, who according to Lettice Curtis had been in charge of the Training Pool at White Waltham.  He transferred from ATA to the BOAC-run Atlantic Return Ferry Service and is not listed in any of our ATA records.
4 days later, another Liberator AM260 carrying 22 people on a transatlantic flight crashed after trying to take off on the wrong runway at Heathfield Ayr.  There were no survivors. 5 ATA First Officers are listed as casualties, one British and four American.
SHORTS STIRLING IN WHEELS UP CRASH
A recent visit from Justin Wills, who lives in New Zealand, brought to light an incident in the ATA career of his father, Director of Operations Snr Commander Philip Wills, who was an well-known glider pilot.  On February 22 1941, Philip Wills (at that time Chief Operations Officer) collected a Short Stirling bomber at Sealand near Chester for delivery to RAF Wyton.  With a crew of 4, the flight was uneventful until the landing gear was selected down – and only one leg extended!  Landing on one leg only would cause the aircraft to slew sideways and possibly cartwheel.  So Wills decided to try to raise the extended undercarriage leg and land wheels up; at least the aircraft would go in a straight line.  Luckily the retraction worked, and the emergency landing was successful with no injuries.  The note in the pilot's logbook says simply 'Wheels up crash'.  No further comment required!  Many thanks to Justin Wills (also a glider pilot) for bringing this entry to our and your attention.
DENMARK'S WARTIME CONNECTION TO MAIDENHEAD – FLIGHT OF THE CONDOR
This is the sad story of how ATA won and lost a giant 4-engined Focke-Wulf 200A Condor, which had a wingspan of nearly 108ft. It belonged to Danish Air Lines and was one of the most unusual aircraft seen at White Waltham during World War II. It happened like this.
Danish Air Lines had two 26-passenger Condors and maintained a regular scheduled service linking Copenhagen with Amsterdam and Shoreham in Sussex, which had served at its UK terminal since the outbreak of war in September 1939.   When German troops invaded    Denmark on 9 April 1940, Condor OY-DAM, named Dania, was at Shoreham under the command of Captain Harald Julius Hansen.  Not surprisingly Captain Hansen did not fly home and his aircraft was impounded.  Initially it was given to the airline BOAC, given the name Wolf and a British civilian registration G-AGAY.  Later it was passed as DX177 to the RAF, who offered it to ATA for 4-engined training.  The Condor came to White Waltham, once again carrying the civilian registration G-AGAY, and Captain Hansen remained to look after it.
On 12 July 1941 Capt Hansen, with First Officer Ken Day as his co-pilot, took it for a short flight test. As the Condor was an 'enemy' type and to avoid any risk of it being attacked, the flight was limited to one hour and a 5 mile radius of the airfield.  During the flight, a heavy storm built up and all the ATA flying school aircraft hurried back to base.  By the time the Condor landed the grass runways were very slippery.  The aircraft skidded and collided with a farm vehicle on the edge of the airfield and was written off.
Ken Day's logbook records this event very succinctly 'Test flight. Caught in thunderstorm and crashed. No injuries.'   The recorded flight time was 45 minutes.   The Watson diaries record that 'Captain Hansen made a normal landing in a thunderstorm, but his brakes did not stop his giant and she crashed through the hedge injuring no-one. His first accident in 25 years. There was nothing he could do. Since he was facing trees there was no room to take off again. So the school lost its first and only 4-engined trainer.  Although I doubt it could have been of much use, since it could only fly with special permission or an escort of Spitfires, to guard against being shot down as an 'enemy'.
Captain Hansen was transferred to ATA's Ferry Pool at Whitchurch near Bristol, but just 10 days later he was severely injured at RAF Brize Norton when the Avro Anson R9761 which he was flying was struck by a Blenheim. He died in hospital in Oxford on 24 July 1941, aged 49. He had clocked more than 1.5 million km flying with Danish Air Lines.  Once again Watson made a diary entry: 'Poor Hansen was killed this week… when a Blenheim landing with one engine went through his Anson'.
AN IMPORTANT 75TH ANNIVERSARY FOR WOMEN
July 19th 1941 was an important milestone in the progress of ATA women towards equality with their male colleagues.  Although ATA had recruited it first 8 women pilots in January 1940, they had been restricted to trainers and communications aircraft, with the boys' toys like Hurricanes and Spitfires being reserved for their male colleagues.
Pauline Gower, Director of ATA's women personnel, waited patiently for 18 months until her girls had proved their mettle before pressing the case for them to be allowed to fly front line aircraft.  So on 19 July 1941 a Hurricane fighter was sent from Air Transport Auxiliary's headquarters airfield at White Waltham to Hatfield so that a group of ATA's women pilots could have a go.  The first four were Winnie Crossley, Margaret Fairweather, Joan Hughes and Rosemary Rees, who demonstrated without any drama at all that of course they could fly a Hurricane.  The following day Philippa Bennett and others also flew their one circuit flight, lasting 15 minutes.  They and their colleagues rapidly progressed to Spitfires, Mosquitos, Wellingtons and scores of different types of plane.  Eventually 11 women would even fly 4-engined bombers, but it would take until May 1943 for them to receive equal pay.  ATA's Spitfire women not only defied the many men still kidding themselves that only ace male pilots could fly fighters.  They were also trailblazers, opening up a whole new future for women in aviation, so that  ATA pilot Jackie Moggridge could become one of Britain's first female airline pilots.   Jackie and her 163 female colleagues are amazing role models for young women today, and their story of courage, skill and sacrifice is told in our permanent Grandma Flew Spitfires exhibition here at Maidenhead Heritage Centre.
TO CELEBRATE THIS ANNIVERSARY, FOR THIS WEEK ONLY (19-23 JULY) WE ARE OFFERING FREE 15-MINUTE SPITFIRE SIMULATOR FLIGHTS TO ALL FEMALE VISITORS TO GRANDMA FLEW SPITFIRES EXHIBITION.  PLEASE PHONE 01628 780555 TO BOOK YOUR FLIGHT
---
VIVE LA FRANCE!
Bon Jour! Today, July 14th, is Bastille Day and so Maidenhead Heritage Centre pays tribute to the five Frenchmen (no women) who crossed the Channel by devious routes and flew for ATA during World War II.
They were (left to right above) Lionel Leon BETIN,  Maurice SAMAT, Jacques Andre HOLLANDE, Maurice HARLEand Claudius ECHALLIER.
We know nothing except dates of service about Betin and Samat.  Echallier was killed in June 1944 flying a Beaufighter which crashed in poor weather on the Mull of Galloway in Scotland – every pilot dreads becoming sandwiched between rising ground and lowering cloud and that day Echallier and his Flight Engineer came to grief.  Maurice Harle was based at Aston Down, which in 1944 was designated as an invasion pool.  On 6 September 1944, flying a Spitfire, he became the first ATA pilot to land in France since 1940 (see Brief Glory pp165-169).  42-year old Hollande escaped from France via Morocco (see Brief Glory pp87/88), joined ATA, was based at Ringway and married a much younger MT drivers called Pamela.
If anybody knows French sources of information which we might tap to find out more about these pilots, please let us know.  Brief Glory is the official history of ATA, first published in 1946, and available only from Maidenhead Heritage Centre, price £12.99 + postal charges. Contact us to purchase your copy.
---
Betty Huggett (nee Keith-Jopp) – ATA's mermaid
We regret to record the death of Betty Huggett on 5 July 2016 in Port Elizabeth, South Africa.  Betty was the niece of one-eyed, one-armed Stewart Keith Jopp, the original Ancient and Tattered Airman.   Betty was one of a group of 17 WAAFs (Womens Auxiliary Air Force) who were recruited into ATA in May 1944.  Others included Pat Provis, Annette Mahon from Dublin, Katie Smith and Peggy Lucas, author of 'WAAF with Wings'.  They were trained from scratch, and Betty went solo on May 30th after just over 11 hrs flying training.  We are privileged to have a copy of her logbook, which shows many air taxi flights followed by a Harvard conversion course in March 1945.  Her first Spitfire flight was on April 18th 1945.  Posted to No 4 Ferry Pool at Prestwick the following month, she first flew a Fairey Barracuda (lumpy and underpowered beast) on 25 May.  On her second Barracuda flight, from Prestwick to Lossiemouth,  she flew into poor weather and obeying instructions not to go 'over the top' she turned back in a slow turn over the Firth of Forth, unaware that she was gradually losing height. She saw the water a second before hitting it, did a good landing 'all things considered', but the aircraft started to sink until it settled on the sea bed. When Betty pulled the canopy release lever a giant bubble of air was released – but she had not released her parachute and harness straps.  When she did, 'it took forever to get to the top.'  It was her lucky day and a little fishing boat chugged past and pulled her out of the water.  The fisherman was quite surprised to find he had rescued a lady ATA pilot!
Betty's logbook for 29 May shows the departure point of Prestwick, a flight time of 1 hour, but a dash – in the destination column.
She did make a number of flights after this adventure, including 4 more Barracuda flights, but her last ATA flight was made on 11 August 1945.  She left ATA on 17th August, 2 days after VJ-Day.  We offer our sincere sympathy to her family in South Africa.
Peter Garrod
It is with great sadness that we report the death of Peter Garrod on 23 June 2016 at the age of 95.  He was one of the most accomplished ATA pilots, flying more than 100 aircraft types including variants.  He was a great ambassador for ATA, and a dedicated supporter of Maidenhead Heritage Centre.  He supplied us with many photographs to use in our ATA exhibition and in our talks.  The archive also includes a filmed interview with Peter in which he describes his very varied ATA career.
His father was an RAF officer and Peter learned to fly while he was at school.  He joined Hawkers as an apprentice at their Kingston factory and later at Brooklands.  When he received his call-up papers he was rejected by the RAF due to his eyesight, but ATA was looking for experienced pilots.  At Hatfield he was given a test flight by the famous Joan Hughes and was accepted into ATA on 28 August 1941.  Subsequent posting were at White Waltham, Ratcliffe, Cosford (two stints prior to it becoming an all-women pool), Sherburn in Elmet and then White Waltham again, when he served with Air Movements Flight and ferried aircraft into newly liberated France and Belgium.  He left ATA on 31 October 1945. While at Ratclife, Peter broke the 'no aerobatics' rule in a Hurricane and was suspended for 3 days without pay, and while at Sherburn he once suffered a total engine failure in a Wellington.  Peter declined an offer to convert to Class 5 4-engined bombers, preferring to stay with the fast types.  He had quite an adventure delivering Spitfires to the French Air Force at Luxeuil during the winter of 1944 and operated out of several temporary landing grounds.
Normally when ATA pilots collected a new aircraft it had been test flown by the factory test pilot, but on several occasions Peter actually flew the maiden flight of a DH Mosquito.
Peter lived in Hamble and the photo shows him speaking at the unveiling of a memorial to ATA erected at the entrance to the former Hamble airfield, home to ATA's No 15 Ferry Pool.  Peter kept a sailing yacht on the Hamble River close to his home, and used to cruise the south coast of England and across to France – single handed!  He also kept up his flying, as his son Chris owns a light aircraft, which Peter loved to fly – and the last time he was airborne in a Spitfire was last year!  If you follow this link http://www.youtube.com/watch?v=ZgS4RCTNo8k  you will find film of Peter flying the Spitfire simulator at Maidenhead Heritage Centre.   'He has slipped the surly bonds of earth'  RIP
ATA pilot honoured by RAF High Wycombe
On April 26th, the RAF High Wycombe renamed the Ladies Room in the Officers Mess in honour of ATA pilot Lettice Curtis. The Curtis Room was rededicated by Air Commodore Chris Elliott (centre). The ceremony was attended
by Mrs Patricia Peal (3rd from left) niece of Lettice Curtis and her father Mr Peter Sladden (left, front row). Also in attendance was Mr Roy Strutton (right, front row), who served as an ATC cadet with ATA at White Waltham and who flew with Lettice Curtis as pilot's assistant. He also flew with other famous pilots such as Jim Mollison. Roy left ATA in 1943 to join the RAF and went to Texas for pilot training. The war ended just before he got a chance to fly a Spitfire, but he fulfilled a life-long ambition when he visited Maidenhead Heritage Centre on his 92nd birthday and flew their Spitfire simulator, instructed by Chairman Richard Poad (back row 7th from left). Other attendees were carers of invited guests or personnel from RAF High Wycombe.
INTERNATIONAL WOMENS DAY
Today March 8th is International Womens Day and so we salute the achievements of the ladies of ATA who came from Britain and 9 other countries to fly for ATA.  The largest non-British contingent were 27 American women recruited by Jackie Cochran.  There were 6 Canadians including Vi Milstead who had a stamp issued in her honour a few years back.  4 New Zealanders, 3 Poles, 3 Dutch women and 3 South Africans also joined ATA – including Jackie Moggridge whose autobiography Spitfire Girl is a terrific read and is available from our museum shop.  Mardi Gething was the sole Australian woman, Margot Duhalde arrived from Chile with virtually no English and Annette Mahon from the Irish Republic was posted to Prestwick and was known as the "Barracuda Queen".  Among the Brits, Joy Lofthouse, Molly Rose and Mary Ellis still make regular media appearances.  To listen to Molly in full flow, follow this link
this link to Radio Berkshire and fast forward to 17:00 and the next five minutes.  
LEAP YEAR DAY IN ATA
Posted 29 February 2016
Most of us would be hard pushed to remember what we did on the last February 29th, in 2012.  But thanks to our fascinating collection of ATA logbooks, we can see what ATA pilots were doing on the two leap year days during World War II, in 1940 and 1944.   In 1940, ATA had very few pilots, including only 8 ladies who were based at Hatfield and delivered Tiger Moths to training airfields all over the country.  So we find Marion Wilberforce, later CO of Cosford Ferry Pool, taking a Tiger from Hatfield to Kemble in the Cotswolds.   By February 29 1944 ATA had hundreds of pilots and the logbooks are much more revealing.
Ed Ballard (USA) took a Lancaster from Coventry to Coningsby,  while his wife Ruth flew an Anson air taxi for three trips.  Vi Milstead (Canada) flew two Spitfires and a Mustang, while Peter Mursell (Director of Training) flew two air taxi flights, a Tempest from Langley to Aston Down, and Typhoons from there to Manston in Kent and back to Langley.  Philippa Bennett flew an Albermarle, a Halifax bomber and two air taxi flights; Diana Barnato-Walker flew two Spitfires while ATC cadet Phil Rogers (based at Hamble) rode as pilot's assistant in a Hudson from Gosport to White Waltham, and in a Walrus amphibian back to Lee on Solent.  Flight Engineer Bernard Wadsworth, who died last December, was a passenger in an Anson from White Waltham to Hawarden, took a Mitchell from there to Bicester, then another taxi flight back to White Waltham.
All in day's work!
CHINESE PILOT IN ATA
Pilots came from 25 countries around the world to fly for ATA.  It is Chinese New Year on Monday 8th February, when the Year of the Monkey begins, so it is appropriate to record details of the one Chinese pilot who worked for ATA for 8 months in 1941.  His name was Raymond Lu Yu Chang and he joined ATA as a second officer on 18 February 1941. In the diary of Arnold Watson we find two entries about Chang.  On 6 March 1941, when Watson was a teaching navigation to his students, he wrote: "Today I passed out my first Chinese pupil – Chang "B" license son of the Chinese Generalissimo Chang Kai Sheck.  Another pupil was flying the mail from Cologne to London in 1919. But he had never seen a modern compass or directional gyro".   Almost 5 months later there is another diary entry on 30 July 1941, when Watson wrote: "Chang, our only Chinese pilot, came in too fast and about 100 feet high over the boundary in a new Spitfire. He might have got away with it on dry ground, but his wheels locked and skidded on the sodden turf and he was still doing about 20 m.p.h when he went down a gun pit and over on his nose at the far end of the field.  Then a school Hurricane had to land with the wheels stuck up; it only came out from repairs in the hangar this morning". For unknown reasons Chang left ATA on 6 October 1941.
For unknown reasons, Chang left ATA on 6 October 1941.
DEATH OF AMY JOHNSON
75 years ago today, on 5 January 1941, ATA pilot
Amy
Johnson, aged 37, died in the freezing waters of the Thames Estuary near Herne Bay in Kent.  She had baled out of the twin-engined Airspeed Oxford which she was ferrying from Squires Gate (Blackpool) to Kidlington (outside Oxford).   How she came to be so far off course and run out of fuel remains a mystery and there have been unproven claims that she was shot down by one of the guard ships in the Thames Estuary.  There are hopes that the wreckage of the aircraft can be located and salvaged.
Amy
had joined ATA in May 1940, according to one source "purely so she could keep flying" – after all her trail-blazing flights across the world some of the ATA work must have seemed very hum-drum.  She was based at the all-women pool at Hatfield, but lived with friends near Marlow on Thames and apparently arranged her work so she could commute by air between Hatfield and White Waltham, just a few miles from Marlow.  That her ex-husband Jim Mollison was based at No.1 Ferry Pool at White Waltham seems not to have been an issue.  Incidentally we have never seen a photo of
Amy
in ATA uniform.
In the Watson diary we find the following entries:
Monday 6 Jan 1941
The 9pm BBC news gave us a shock tonight when the announced that
Amy
Johnson was missing. "Something happened to her machine over the Thames Estuary. She was seen to bale out; a launch searched for her for some time without success".  What a spectacular end to a spectacular life.  I cannot understand why she was over the Thames Estuary. The ATA girls fly trainers only and trainers don't usually go that way.  Doubtless, shall find out tomorrow how the tragedy occurred.  She is the first of the ATA girls to be killed
(incorrect).
I remember a couple of pleasant trips home from Hatfield in her Anson during the summer.
Tuesday 7 Jan 1941
The snow stopped all flying at White Waltham today.  It seems that
Amy
was flying an Oxford from Blackpool to Kidlington & had been 5 hours in the air when the accident occurred.  It would seem therefore that she got lost, went "over the top
" (against ATA rules)
and could not get down again, finally running out of fuel.  The weather forecast was very bad 1-2000 yds visibility in the Midlands & icing conditions at all heights.  If she started off without a forecast, it was unwise with snow all over the country; if she did get such a forecast, then most good pilots would not have attempted to make the journey.
White Waltham Airfield is marking 80 years of aviation history this week. Maidenhead Heritage Centre chairman RICHARD POAD takes a look back over the site's heritage.
Eighty years ago this week, pilot training began at the new White Waltham Airfield just west of Maidenhead, a tradition which has continued almost unbroken ever since.
Now the airfield is home to West London Aero Club; then, in 1935, it was operated by the De Havilland School of Flying, teaching students for the RAF Reserve.
Their planes were mainly De Havilland bi-planes Tiger Moths.
Tiger Moths are still in evidence at White Waltham 80 years later.
The Second World War saw the Air Transport Auxiliary (ATA) move its headquarters to White Waltham.
From bases up and down the country, its civilian pilots, men and women, took over from the RAF the routine movement of aircraft between factories, maintenance units and front-line squadrons.
More than 309,000 service aircraft were ferried by ATA pilots during the war. ATA is Maidenhead's most important claim to wartime fame and its amazing story is told in a permanent exhibition at Maidenhead Heritage Centre in Park Street.
After the war, a number of famous aviation companies made their home at White Waltham – notably Fairey Aviation and Fairey Air Surveys.
The Gannet was test flown here and the revolutionary Fairey Rotodyne, the world's first vertical take-off airliner, made its first flight at White Waltham in November 1957.
Sadly the Rotodyne project was cancelled five years later.
Meanwhile Fairey Air Surveys planes flew all over the world, from Australia to modern Zimbabwe; many of their aerial photos of Maidenhead are included in a temporary exhibition at the heritage centre.
ML Aviation and its predecessor companies worked at the airfield for more than 50 years.
Its Malcolm 'bubble hood' gave wartime fighter pilots greatly increased visibility and was installed in planes, including the Typhoon.
ML built a tiny aeroplane with an inflatable wing, which was the world's first microlight, although it never went into production; neither did an ejection seat, a pilotless target-towing drone or the miniature Sprite spy helicopter.
But Bomb storage and Release Units were a huge success and installed in Jaguar and Tornado planes by the RAF.
The RAF itself occupied the south side of the airfield between 1946 and 1973, and Prince Philip learned to fly there. He made his first solo on December 21, 1952, then flew himself to Sandringham for Christmas.
RAF Home Command was here, while air cadets flew gliders and Chipmunk trainers, as did the students of the University of London Air Squadron.
The Ministry of Defence sold White Waltham in 1982. Since then the West London Aero Club has operated the airfield.  The airfield is a centre of excellence for aerobatic flying and many club members keep their planes here; the oldest resident plane was built in the Thirties.
Last year saw many vintage military aircraft passing through on their way to D-Day celebrations, and during this year's Battle of Britain commemoration, Spitfires and Hurricanes filled the skies above White Waltham.
Few grass airfields anywhere in the world have such a fabulous aviation heritage. Maidenhead should be proud of it.
AUTUMN EXHIBITION FROM 17 SEPTEMBER TO 20 FEBRUARY 2016
MAIDENHEAD FROM THE AIR

Fascinating aerial photographs of Maidenhead and the surrounding area, dating from the 1920′s to the present day.  Some of the photographs were taken by Fairey Air Surveys, based at White Waltham for 20 years, while others have been taken by modern drones. Free admission.
AIR TRANSPORT AUXILIARY AGM HELD AT MAIDENHEAD
On Friday 4th September the ATA held their AGM and Dinner in Maidenhead. Amongst those attending were ATA Pilots, Molly Rose, Mary Ellis, Joy Lofthouse and Peter Garrod.
On Saturday 5th September many members came to the Heritage Centre to fly the Spitfire Simulator and then moved to White Waltham (the old headquarters of the ATA) to attend the Aeroclub Open Day. They were shown round a Spitfire 1X by The Battle of Britain Memorial Flight.
During the afternoon, for  the first time, a wreath laying ceremony was held at the ATA Memorial on the Airfield.
70th ANNIVERSARY OF D-DAY
On the 70th anniversary of VE-Day we salute the 173 men and women who lost their lives in ATA service.  Proportionately men died in larger numbers than the women who suffered only 17 fatalities, including Janice Harrington who was killed with Dora Lang on 2 March 1944 when their Mosquito crashed while carrying out a go-around at RAF Odiham.  Both are buried at All Saints' Cemetery in Maidenhead.  The LAST ATA pilot to be killed was the South African Rosamund Everard-Steenkamp who died ferrying a Spitfire for 41 Group in January 1946 – many weeks after ATA was wound up.
ATA MEMORIAL UNVEILED AT YORKSHIRE AIR MUSEUM
On April 11th a memorial to the men and women of ATA was unveiled by ATA veteran Martin Nicholson, who lives in Yorkshire.   Also attending the ceremony was ATA veteran Peter Garrod, who lives in Hampshire, and members of the ATA Association, including relatives of ATA veterans.  The photographs show the wording of the plaque, which was commissioned by the ATA Association, and the veterans standing proudly in front of it.
At Maidenhead Heritage Centre we are proud that among the 100 ATA logbooks in our collection are copies of the logbooks of Martin Nicholson and Peter Garrod.  Filmed interviews with both men are available for researchers, and Peter kindly allowed us to copy photographs from his personal photo album.  Both Martin and Peter have flown our fabulous Spitfire simulator, and a visit to Youtube will show Peter demonstrating his flying skills!  He is still an active pilot, flying from Lee-on-Solent.
Other memorials to ATA have been erected at White Waltham, Whitchurch, Ratcliffe, Ringway and Hamble.  If you know of any others, please contact us.
Shortly after the unveiling ceremony, two Yorkshire newspapers interviewed Martin Nicholson.   Click here to access the Yorkshire Post article and click here  for the article in the York Press.
ATC Cadet Ron Neal RIP
We have just learned from Ken Fostekew at the Museum of Berkshire Aviation of the passing of Ron Neal on the 26th March.  Ron along with Don Ellis were 16 year old ATC Cadets attached to ATA. Ron served from 22/1/41 to 27/11/43. He had some memorable flights with ATA and was full of yarns. He flew with Jim Mollison to Hullavington in a Ventura and had to crawl into the tail to release the tailwheel as it had jammed; for that Jim treated Ron to a slap up lunch in the mess. On another occasion Ron and another cadet went to Scotland with Commodore Gerard d' Erlanger in a PBY (Catalina) amphibian for mooring training. At the end of each session both boys were soaked to the skin, d' Erlanger gave them both a £1 each for their supper and a trip to the cinema. Ron flew as "pilot's assistant" with Lettice Curtis, Joan Hughes in Halifaxes,Lancasters etc..
Ron obtained his Private Pilot's Licence and was a founder member of the embryo Fairey Aviation Flying Club at White Waltham. After his many years with Fairey Surveys, redundancy happened, as it did with many of us. Ron then moved to Lydd in Kent and flew with a company photographing shipping in the channel for US Naval Intelligence ?? until retirement age 65. His last years were spent house bound and then bed ridden, but that did not stop him writing many interesting articles for aviation magazines, some of which are in the archive at Maidenhead Heritage Centre.
Ron's funeral is on the 21st April at the Charing Crematorium nr Ashford, Kent.
Note re ATC Cadets: ATA employed teenaged Air Training Corps cadets (and at Belfast Sea Cadets)  as messengers and general dogsbodies.  They got to fly as pilot's assistants in aircraft where, for example, the pilot could not reach the emergency undercarriage handle.  They enjoyed a great deal of 'street cred' as a result.  The archive at Maidenhead Heritage Centre includes the logbook of ATC Cadet Phil Rogers, who was attached to the all-women ferry pool at Hamble.  One ATC cadet, Geoffrey Regan was killed on 20 June 1945 in an accident while flying in a Hudson with pilot Miss Leslie Murray. She was practising single-engined flying, and the aircraft span into the ground near Taplow, about 3 miles north east of White Waltham.  Other White Waltham ATC cadets included Rod Edginton and Larry Lambourne, both of whom still live in this area. 
Remembering First Officer Donald Hoare ATA
With deep regret we record the death on April 3rd of ATA First Officer Don Hoare, who lived at Flackwell Heath near High Wycombe.  Don joined the RAF in 1940 and was trained as a pilot in 1942 in the USA, then posted to a Wellington squadron.  He moved to ATA and served with ATA from 6 February 1943 until 15 April 1945.  Throughout that time he was based at No 9 Ferry Pool at Aston Down, which was also home to an RAF fighter squadron.  During his time with ATA, Don flew 34 different types, flew 769 hours and made 548 deliveries.  Since Aston Down was designated an Invasion Pool in 1944 (along with White Waltham), Don found himself flying Ansons with supplies and personnel into and out of Europe.  His first flight across the Channel was on 18 September 1944, to Caen with 1500lbs of freight and 4 passengers.  Two days later he went to airfield B59 just inside Belgium with 1500 lbs of freight and 5 passengers.  His logbook entries demonstrate the invaluable service ATA provided in shipping freight into France in support of the advancing allies.
Don received an ATA commendation in January 1944.  The citation reads "On 28 January 1944 First Officer D H Hoare was ferrying a Typhoon when the engine failed completely. He managed to reach a nearby small airfield and made a successful landing with the wheels down and without damage to his aircraft."  His log book tells us that the aircraft was MN247, which he collected from Brockworth in the Cotswolds.  The destination is recorded as Northleach (the "small airfield" of the citation) , with a flight time of 10 minutes.  His notes, written in a neat hand, say "Forced landing – u/c down – no damage – defect fuel pump seizure".  Exactly two months later he had to make another forced landing, this time in a Spitfire.  Our archive includes a filmed interview with Don which we recorded about 3 years ago.

Don Hoare (left) with Peter George at the opening of flew 769 hours. in October 2011
When he left ATA, Don served with the Fleet Air Arm, then with BEA and British Airways – his civilian aircraft were the Viking, Viscount, Comet and BAC One-Eleven. This photo shows him is in BA uniform.  Don served on the committee of the ATA Association for several years.
 "He has slipped the surly bonds of earth…"
Saying Goodbye…..
to VERA STRODL DOWLING (1918 -2015)
by Mary Oswald
Vera Dowling passed away on January 11, 2015 at the age of 96.  She was born in England but grew up in Denmark.  She returned to England to begin flying lessons, and so began her long career in aviation.  In 1941 she joined the Air Transport Auxiliary as a Ferry Pilot serving from 2 December 1941 to 30 November 1945.  She spent much of her time in ATA at No.15 Ferry Pool at Hamble.   She ferried numerous types of fighters, bombers and training aircraft from factories to front line bases, and returned damaged aircraft to repair depots.  She flew without radio and navigation aids, often in bad weather and having to avoid hitting the cables of barrage balloons.  Diana Barnato-Walker tells of a day of unexpected foul weather when she and Vera, a "tall, fair Danish pilot",  were forced above cloud (stricly against the rules) ferrying  Spitfires  from Eastleigh to Cosford.  Comparing notes later the same  evening,  they agreed to keep quiet about it and "we conspirators silently crept into the Mess for tea".
Vera emigrated to Canada in 1952 and became Alberta's first female flight instructor at a flight school operated by the Lethbridge Flying Club.  In 1957 she was hired by the Edmonton Flying Club where she took on the responsibility of many instructing duties.  In 1971 she began work at the Northern Alberta Institute of Technology (NAIT) as a Ministry of Transport Ground School Instructor in Private Pilot, Commercial and Instrument courses, teaching these as evening courses while instructing at the Flying Club.  When she retired in 1987 her logbook totalled over 30,000 hours. (WOW!)
On her 86th birthday, in true ATA style, Vera made a tandem parachute jump from more than 3 km above ground.  She described the 7-minute jump as "a thrill of a lifetime."
Vera Dowling was inducted as a Member of Canada's Aviation Hall of Fame in 2000.
75 YEARS AGO – ATA STARTS FERRYING FROM WHITE WALTHAM

February 15th marked another very important 75th anniversary for ATA and White Waltham.  For on that date in 1940, ATA ferrying operations commenced from the first  all civilian ferry pool at White Waltham.  Until then, ATA pilots had been attached to the RAF's existing Ferry Pools at Hucknall (Derby)and Filton (Bristol).  The new pool at WW was initially designated No.3 Ferry Pool and its headquarters was a wooden hut at the east end of the main hangar occupied by the RAF Elementary Flying Training School No.13.The new pool was required to clear new aircraft from specific factories in the midlands and the south of England.  So WW was a good centre from which to collect Masters from Woodley, Hurricanes from Langley and Oxfords and Tiger Moths from Hatfield.  Initially, only one Tiger Moth available as a taxi aircraft so most return journeys were made by train, which could take forever.In the first 3 weeks the 40 pilots at WW (including speedway ace Wally Handley and famous names such as F D Bradbrooke, Douglas Fairweather and Philip Wills) shifted 260 aircraft, with more work being piled on them every day.   After 6 weeks, 640 aircraft of 17 different types had been delivered, with only one being damaged through the fault of an ATA pilot.Eventually ATA was to ferry 309,011 aircraft, an average of 141 aircraft every day for 6 years. Here in Maidenhead we are determined that this amazing achievement should never be forgotten.
75 YEARS AGO – FIRST 8 WOMEN JOIN ATA
We cannot let January end without recording that it is 75 years since the first 8 women were signed up by ATA, on 1 January 1940.  Eventually 164 women would service as pilots with ATA, and 4 as flight engineers (out of a total aircrew workforce of 1246).Originally it was proposed to recruit a larger first batch of women "as an experiment", but the numbers were whittled down by a nervous establishment.  So the first eight were wheeled out at Hatfield in mid-January (on a sunny day) for the press, who made them "scramble" – towards a line of Tiger Moths.
Pauline Gower was the head of the women's section; she had over 2,000 flying hours and had taken up 30,000 passengers for joy-rides in her Spartan aircraft.   Her recruits were flight tested by A R O McMillan, the chief flying instructor of the airline BOAC, but since they all had over  600 flying hours and more than half of them had instructor ratings, their ability was not really an issue.  They were Winifred Crossley (1860 flying hrs) pilot with C W A Scott's air circus; Margaret Cunnision (800 hrs) chief instructor at Perth; the Hon Mrs Fairweather (1,000 hrs), instructor at Renfew who had toured Europe in her own aircraft; Joan Hughes aged 22 (600 hrs), instructor at Romford; Mona Friedlander (600 hrs) international ice-hockey player; Rosemary Rees (700 hrs) who had flown all over Europe; Marion Wilberforce (1,000 hrs) later CO of Cosford Ferry Pool; and Mrs G Patterson (1539 hrs) founder of the Women's National Air reserve and also an instructor and a member of the examiners' panel of the Guild of Air Pilots.  There is a photo of them in the GALLLERY page on this website.
Rosemary Rees wrote that the newspapers really let themselves go: "Ace Women Pilots", "Eight girls to fly 350mph fighters" (when the reality was 60-80 mph trainers!), Eight girls will "SHOW" the RAF" and so on.  The press never let go of this glamour story – there were even photos of Pauline Gower in Vogue in 1942 or 43, and Maureen Dunlop made the front cover of Picture Post in 1944.
However Rosemary Rees wrote that "in those early weeks of 1940 we 8 women carried an appalling burden of responsibility on our shoulders. With the light of publicity upon us while the War was still in its phoney stage we dared not put a foot wrong. If oone of the men broke an aeroplane it was to be deplored, but after all people do occasionally break aeroplanes, don't they?  But if one of us had broken one it would immediately have been, "There, you see, we always said they couldn't do it and they can't".
But as We all know, history showed that they COULD do it.  We salute them all.
MARY VILLIERS – IN MEMORIAM
MARY VILLIERS of Horsham, Sussex, died  peacefully aged 95  on 3rd January.
Mary  served with ATA from 1 June 1943 until 31 October 1945, during which time she flew around 550 hours and 31 different types.  The museum here in Maidenhead has a copy of her log book, which shows that within 3 days of joining as an ab initio pilot she was having her first flying lesson at ATA's own flying school at Thame.  Once she passed all the initial training she was posted to Cosford and Sherburn-in-Elmet before going back to Thame in December for conversion to Class 2 aircraft: single engine fighters for which training was carried out on the Harvard.  After this she was posted  in July 1944 to Sherburn (in Yorkshire) and then as ATA began to run down she went to Ratcliffe (nr Leicester) in March 1945.  In June 1945 she did a Class 4 conversion course (operational twins), which is in some ways surprising at that stage of the war.  Back at Ratcliffe, her flying including several trips as second pilot to Flt Capt Johnny Spiller in Sunderland and Catalina flying boats with destinations such as Beaumaris in Anglesey and Wig Bay in south west Scotland.  Her very last day's flying with ATA was 17 October 1945, when she flew an Auster, a Spitfire and a Harvard.  Such was the variety of flying life in ATA.
Our archive includes a film interview with Mary when her spirit and sense of humour are very evident.  She has slipped the surly bonds of earth.
SPITFIRE SIMULATOR GETS AN OVERHAUL
Our popular Spitfire simulator is now even more realistic.  New scenery software (including the Shard and the Olympic stadium) has been installed, and the view from the cockpit of the outside world has been made even better by installing three much larger screens.  Even more reason for coming to fly with us!
SPITFIRE GIRL – a  new ATA book
Spitfire Girl is the revised and expanded autobiography of First Officer Jackie Moggridge of ATA.  Jackie was born in South Africa, took to flying at an early age, ferried 1438 aircraft for ATA between July 1940 and the end of 1945.  She married during the war, but despite the birth of two daughters couldn't keep away from flying.  She gained her wings with the RAF, flew a Spitfire to Burma for the Burmese Air Force and became one of Britain's first lady airline captains.  Her book has been revised by her daughters who have added a wonderful selection of photographs from the family albums.  The book is a terrific read, and is available now from Maidenhead Heritage Centre, price £8.99 plus P&P.  To buy just give us a call on 01682 780555.
LETTICE CURTIS – IN MEMORIAM
We record with sadness the death on 21 July 2014 of Lettice Curtis at the age of 99. One of the most distinguished of Britain's  women pilots, Lettice Curtis served with Air Transport Auxiliary during World War II, ferrying war planes between factories and front line squadrons.   She served with ATA from 6/7/40 until 30/11/45.
Brought up in Devon, she studied Maths at Oxford where she was Captain of the University Women's Lawn Tennis and Fencing teams.  She learned to fly in Sussex and in May 1938 began flying for an air survey company, at a time when very few women made a living from flying.
Lettice joined ATA with the second batch of women in July 1940 and served at Ferry Pools at Hatfiield, Hamble, White Waltham and Ratcliffe, most of her time being with No.1 Ferry Pool at White Waltham.  Fiercely professional, she became the first woman to fly a 4-engined bomber (a Halifax, in 1942) and went on to ferry over 364 4-engined bombers as well as 162 Spitfires and 125 Mosquitoes in an overall total of 1467 aircraft ferried.  For ATA's Closing Pageant at White Waltham at the end of September 1945, she brought in a white-painted Liberator bomber.  Film in our collection at Maidenhead shows her walking away from the aircraft with a huge grin on her face!
Her 1971 book The Forgotten Pilots is the most authoritative book every written about ATA and is available from the museum. It is full of technical and organizational as well as personal detail. and has no less than 22 appendices!  She quotes from her logbook a 'round Britain tour' on  September 25th 1944 when, starting and ending at White Waltham, she ferried 6 different sorts of aircraft, the largest being a Stirling bomber, the fastest a Spitfire XXI and the smallest a Miles trainer.  Wow!  And there were plenty more days like this, as ATA pilots provided a continuous supply of aircraft for the RAF and the Fleet Air Arm to fly into battle.
Her post-war years were spent as a technician and flight test observer at Boscombe Down and later with Fairey Aviation at White Waltham, where she worked with Peter Twiss and on the Gannet flight test programme.  She took an active part in British air racing in various aircraft including a Spitfire and her own Wicko G-AFJB.  When Faireys was bought by Westland she moved to the Ministry of Aviation and the CAA, then to Sperry at Bracknell, retiring in 1979.  In October 1991, she obtained a helicopter licence in a Robinson R-22.
Lettice was a patron of Yorkshire Air Museum, to which she gave her ATA uniform and her ATA logbook.
CELEBRITY ANTIQUES ROAD TRIP FILMS AT HERITAGE CENTRE
The BBC's Celebity Antiques Road Trip is an addition to the growing number of film crews using the Grandma Flew Spitfires exhibition. The crew came on Wednesday 19th June to film an episode of Celebity Antiques Road Trip, which was screened in November 2014.  In the picture below actress Nina Wadia, the Celebrity, is getting instruction from Christopher Hobbs on flying the Spitfire Simulator.
---
BATTLE OF BRITAIN VETERAN FLIES THE SIMULATOR
A Battle of Britain Spitfire pilot came to fly our simulator on Friday 21st June 2014. He was Sqdn Leader Alan Scott; – he joined the RAF in WW2 a bit later after a bad crash in Tiger Moth, this entailed a 6 months repair job in hospital! – flew Spits and Hurricanes – then onto Malta in 1942 – towards end of war working as test pilot at Kemble, he was 'loaned to ATA at Aston Down for a while'. He is 92 in July and very fit – he climbed in and out of the simulator quite easily!
Alan enjoyed his extended flight and had full control immediately – when asked about aerobatics – Christopher Hobbs said no problem! So off he went – rolls and loops!